Cape Cod Decks
Custom Decks and Decking on Cape Cod. Deck design and construction. Wood and composite decks and railing systems.
Need a new deck? Cape Cod Decks offers deck design and construction.
Deck Materials
Wood: Cedar, Mahogany and Pressure Treated lumber
Traditional wood decks and railing systems made from mahogany, cedar or pressure treated lumber.
Composite: Trex® decking and deck railing systems
Trex® offers a complete line of products to maximize your outdoor experience; from decking and railing to fencing and trim. All are designed to the same low maintenance and long lasting standards that Trex® is known for.
Trex® has become the market leader in outdoor living by providing quality deck materials that allow for endless design opportunities with minimal maintenance. With Trex® decking, railing, fencing and trim, our customers are able to create a space where they can truly escape from the everyday, every day.
No other decking, railing, fencing or trim materials offer the natural beauty, durability, endless design flexibility and comfort of Trex®, while also working to save our environment.
By choosing Trex, you can rest assured that your perfect outdoor oasis will be a world apart - in quality, design and the pressures that everyday life presents.
It's hard to take time for yourself, to truly escape the day. Leaving the emails unopened, letting the calls go to voicemail — for most people that's easier said than done. But not a Trex® owner.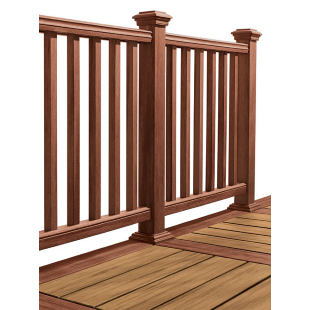 Free from the constant upkeep of high-maintenance wood decking, Trex® owners are able to kick off their shoes and comfortably leave the day behind. Let Cape Cod Decks show you just how easy it is to start creating your escape with Trex® outdoor living products.
At Cape Cod Decks, we'll walk you through design and decking options no one else can offer. And because Trex® products won't ever crack, or rot, you'll get a feel for living the splinter-free, hassle-free life. And with a 25-year limited residential warranty, plenty of time to live it.
So, do yourself a favor and start creating your escape with Cape Cod Decks and Genuine Trex®. And at the end of the day, you'll be all too comfortable to leave it all behind.
Get a free estimate on your Cape Cod home improvement or home maintenance project
Recent Posts
Get outside and prepare your outdoor living spaces for the entertainment season
Now is the time to get outside and prepare your outdoor living spaces for the entertainment season ahead.
While sunny days are perfect for fertilizing the lawn, planting flowers and laying mulch, don't waste those gray, overcast days, which are great for other DIY projects. One task that can be tackled on a dreary day is prepping and cleaning your deck for upcoming barbecues and parties.
Staining your wooden deck is one of the best ways to protect your investment from the elements, keep it looking nice and make it easier to maintain.
READ MORE...
---
Build a new deck, Replace decking, repair an existing deck or porch
Have an old deck that needs some new decking or needs to be completely replaced? Contact our professional deck builders for a free estimate on your new deck design, deck remodeling, replacement or restoration project.
READ MORE...
---
It is important to make sure your outdoor living spaces are as safe as they are fun
In every neighborhood, there's always that one house where people love to congregate. Sometimes all it takes is a shady front porch that draws neighbors for a glass of iced tea—or a backyard deck that becomes the outdoor kitchen, den and dining room, where everyone enjoys hanging out.
Making your home the hub for fun can be as easy as creating the space and inviting folks in. But it's important to make sure your outdoor living spaces are as safe as they are fun. If you already have a deck, give it a thorough checkup. See if you have any loose railings or balusters, and inspect the foundation of your deck for rotting wood, corroded or loose fasteners and any mold and mildew.
READ MORE...
---